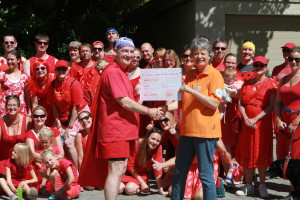 The 2015 Red Dress R*n took place on a sunny August 22 this year and raised a healthy CHF1'650 for Stiftung Theodora, the charity that sends clowns into hospital to entertain sick children. 47 hashers and guests turned up, all splendidly attired in red dresses, men, women and children alike. The day was balmy and bright, and the hashers were barmy and bright red.
Early in the r*n we passed close to the Zürich Children's Hospital, a major host for the clowns that we were supporting, and the venue of one of our first on-hash challenge. We had been told to be quiet in order not to disturb the children, and to forgo our normal shouts of 'On-on!' telling the rest of the running pack that we were on trail and where we were. Of course some of our number chose to head up the hill along a false trail. As we could not call out to them, they plodded on upwards, eyes firmly fixed on the road looking for flour, while those of us that knew better gesticulated in the equivalent of a bellow to tell them where the trail really went. Gesticulation is really no substitute for a good 'Onon!' shout, and so some of them were out of sight before they found out their mistake. It took them a while to catch up.
Further up the hill, a passing motorist's eyebrows disappeared into his hairline at the spectacle of several large and hairy men prancing around in red dresses. Fortunately, the road was straight as he cruised slowly by staring fixedly out of the side window – he did not feel brave enough to open it and ask what we were doing, and so no doubt had a good, if not very credible, tale to tell to his family over dinner that evening.
The beer stop was a playground on a winding trail that followed a stream back down the mountain. Hashers, beer and swings and slides led to an inevitable result and we exercised the Zürich hash motto, 'It's never too late to have a happy childhood', before heading down back to venue at Hottingerplatz. Here, there is a large fountain with multiple drinking points where children, dogs and hot hashy feet could take a dip and cool off. We took a group photo and presented a cheque to the volunteer from the Stiftung, who was bemused but grateful, and then headed off for the circle.
The circle was large, raucous and well-oiled. Transgressors, real and imagined were hauled in to down-down their punishments, as were those 'guilty' of great and good deeds. Dresses were subjected to a the critical gaze of the RAs, and the wearers of any found not to be red enough, nor dressy enough were subjected to the usual sanctions.
Special thanks should go to Wet & Ready for negotiating the labyrinth of local regulations to bring the r*n into being, with a little help from our friends (Copwiler and guests). Additional appreciation is owed to Furry Asscandy, who donated all the beer, thus enabling us to reach the heady total of CHF1'650 for the charity donation. We shall be doing it again. We have a target to beat now, so see you next year!